Due to a re-sourcing exercise and moving to die-cast tooling from the original
sand, Triumph Motorcycles required some changes to the design of an
existing cylinder head. A model of the cylinder head was already in existence,
although it was constructed in such a way that it was cumbersome and
extremely difficult to modify. Evo were tasked with the reproduction of the
cast and machined variants of the design, coupled with their detailed
drawings, to facilitate the new manufacturing methods.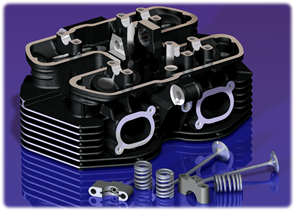 Cast and machined model, including drawings, delivered in 7 weeks
(nearest competitive proposal 12 weeks)

Huge design change near the end of the modelling work meant moving
the base model datum, affecting over 1500 features. Work completed
in a day.

"You guys have set the new benchmark" – Quoted from Ryan Ballard,
Project Engineer for Triumph Design.

Close involvement with manufacturers in Italy meant no changes were
required after initial model submission.

Use of online project collaboration tools for communication of the
project data to a dispersed team across the UK and Europe.
---